Connecticut Sports Betting Bill Tracker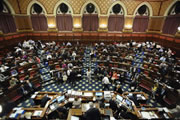 Legal Connecticut sports betting has long been a priority of state legislators, even prior to the Supreme Court decision in Murphy vs. NCAA. In 2017, lawmakers included a sports betting provision within a larger gambling expansion package. CT HB 6948 addressed both casino gaming and horse racing betting, while also authorizing the Commissioner of Consumer Protection to adopt sports gambling regulations once permitted by federal statute. Now that the ruling in the New Jersey sports betting case has rendered the Professional and Amateur Sports Protection Act of 1992 (PASPA) unconstitutional, sports gambling in Connecticut is legal according to the law.
Though the activity has been formally legalized, it is still not possible to bet on sports in CT. This is because the Department of Consumer Protection has yet to shape the regulations necessary to oversee a legal Connecticut sports betting market. With the Mashantucket Pequot and Mohegan tribes operating Indian casinos in the state, lawmakers need to closely examine how the addition of sports wagering will impact state-tribal compacts. The state will also have to consider what role off-track betting facilities and the state lottery will play when it comes to sports betting in CT.
There is also the issue of if and how regulators will work with the NFL, NBA, NCAA, and other leagues in regards to sports betting laws. The state has been agreeable with working with sports leagues to maintain the integrity of their games, however, there has been pushback in other areas. Many lawmakers do not support the integrity fees and data monopolies that have been proposed by the sports leagues that are lobbying for regulation. This has likely contributed to the lack of proposed laws that would include language regarding taxes, consumer safety measures, and overall regulatory standards.
Being that lawmakers were early proponents of legalized sports betting, we expect more thorough draft bills in the future. You can keep up with the latest proposed legislation in Connecticut by reviewing our Connecticut sports betting bill tracker below:
Sponsor: Planning and Development Committee
Summary: Allows one additional tribal casino in the state. Increases the number of off-track betting facilities from eighteen to twenty-four. Instructs the Commissioner of Consumer Protection to adopt sports betting regulations should the federal law allow wagering on sporting events.
Excerpt: "The Commissioner of Consumer Protection shall adopt regulations… to regulate wagering on sporting events to the extent permitted by state and federal law… The Department of Consumer Protection shall not operate or authorize the operation of more than [eighteen] twenty-four off-track betting branch facilities."
Last Action:
7/10/2017 - Signed by the Governor
Sponsors:
Sen. Catherine A. Osten, 19th Dist.
Rep. Kevin Ryan, 139th Dist.
Rep. Christine Conley, 40th Dist.
Sen. Steve Cassano, 4th Dist.
Rep. Emmett D. Riley, 46th Dist.
Rep. Joe de la Cruz, 41st Dist.
Rep. Susan M. Johnson, 49th Dist.
Rep. Doug Dubitsky, 47th Dist.
Rep. Mike France, 42nd Dist.
Rep. Holly H. Cheeseman, 37th Dist.
Sen. Paul M. Formica, 20th Dist.
Sen. Heather B. Somers, 18th Dist.
Summary: Authorizes the legalization of sports betting, online wagering, and internet keno. Physical age verification would be required to begin betting on sports via a state-licensed sportsbook.
Excerpt:
"To provide for additional revenues and jobs from the operation of sports wagering, Internet gambling and Internet Keno; enhance the revenue to the state from agreements between the state and federally recognized Indian tribes in Connecticut; …and ensure age and physical location verification for participation in Internet gaming."
Actions:
02/28/19 – Vote to Draft
02/22/19 - Public Hearing 02/26
02/07/19 - Reserved for Subject Matter Public Hearing
01/11/19 - Referred to Joint Committee on Public Safety and Security
Sponsors:
Sen. Martin M. Looney, 11th Dist.
Sen. Bob Duff, 25th Dist.
Sen. Steve Cassano, 4th Dist.
Sen. Christine Cohen, 12th Dist.
Sen. Mary Daugherty Abrams, 13th Dist.
Sen. Catherine A. Osten, 19th Dist.
Sen. Dennis Bradley, 23rd Dist.
Sen. Julie Kushner, 24th Dist.
Sen. Norman Needleman, 33rd Dist.
Summary: This placeholder bill would legalize sports wagering in Connecticut.
Excerpt: "Be it enacted by the Senate and House of Representatives in GeneralAssembly convened: That the general statutes be amended to authorize wagering on the results of certain sporting events."
Last Action:
02/28/19 – Vote to Draft
02/22/19 - Public Hearing 02/26
02/07/19 - Reserved for Subject Matter Public Hearing
01/25/19 - Referred to Joint Committee on Public Safety and Security
Best Connecticut Sports Betting Sites - 100% Trusted + Safe
| | | | | |
| --- | --- | --- | --- | --- |
| | | 50% Up To $250 | VISA + Wire Transfer | |
| | | 50% Up To $1,000 | VISA, Bitcoin, Cash Wire | |
| | | 50% New Member Bonus! | VISA, Bitcoin | |
| | | 100% Up To $300 | VISA, Bitcoin | |
| | | 50% Up To $1,000 | Bitcoin, Wire Xfer, VISA | |
Connecticut Sports Betting FAQ
Will Mobile Sports Betting Be Allowed In Connecticut?
Yes, we can say that mobile wagering will most likely be allowed. The Mashantucket Pequot Tribe has already come forward and stated that iGaming is potentially more lucrative than regulated online gaming. Some of the proposed legislation has also included language for mobile CT sports wagering. The offshore sites that residents use for legal Connecticut sports betting offer mobile betting platforms, and it is reasonable to believe that regulated online sportsbooks would follow a similar model.
What Is The Legal Sports Betting Age In CT?
The age to gamble is 21-years-old, which likely means that the legal Connecticut sports betting age would be written the same. In fact, SB 17 clearly states that those wanting to partake in sports and internet wagering must be at least 21. Unregulated online sportsbooks that accept CT residents already require bettors to be 21 or older.
Where Can I Bet On Sports In Connecticut?
Right now, you will have to stick to offshore online sportsbooks for sports betting in Connecticut. In the future, it would be the Foxwoods Resort Casino and Mohegan Sun offering sports betting if the ban is lifted. The state could potentially open standalone sportsbooks, though this would depend on various factors.