On Deck: Connecticut Readies for Legal Sports Betting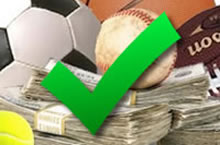 With the Supreme Court agreeing to hear New Jersey's sports betting legalization case, in what was a surprise decision for many, state legislatures began seeing the issue on their radars as well, with the repeal of PASPA suddenly less of a longshot.
Previously, Mississippi looked to be the state (behind New Jersey) most ready for the potential repeal of PASPA, after inadvertently striking down their own prohibitions on the matter whilst passing fantasy sport laws. Now, while they appear to be back-pedaling, Connecticut has boldly positioned themselves out in front, signing a bill into law that includes key provisions for sports betting regulation (on purpose!).
As part of H 6948, a bill signed into law by Governor Dannel Malloy, regarding the expansion of casinos and the addition of several off-track horse-racing locations, Connecticut outlined the duties of the Commissioner of Consumer Protection to "regulate wagering on sporting events to the extent permitted by state and federal law".
In theory, this small line would expedite the regulatory process enough to give Connecticut a head start if we ever find ourselves in a post-PASPA world. On their end, the Department of Consumer Protection has acknowledged its duties, saying it's aware of the New Jersey case and will "continue to monitor federal activity surrounding sports betting."
Still far from a certainty, the repeal of PASPA would have to come directly from the Supreme Court's decision, though even then, no results would likely come until 2018. Nevertheless, any move to lay groundwork for sports betting is being considered a wise one these days, as many do expect a favorable verdict.
Even short of a full repeal, most favorable outcomes for New Jersey would likely hand some power back to the states, hence the need to be prepared when the time comes. So far, only Mississippi and New Jersey have taken similar steps, with the former alleging to have done so as mere coincidence.
So why does being first in line even really matter? Well, given the relative sports betting desert that exists outside of Nevada, the first states to institute sports betting in a post-PASPA world would have their shot at establishing a Vegas-like dominance of the market, assuming other states continue to lag behind. This translates to increased tourism, state recognition, and other intangibles that being a pioneer of industry can afford (think Colorado in terms of marijuana). Connecticut's readiness could very well lead to them cornering their market for sports betting in CT if they play it right, and if preparedness is any indication, they certainly will.
Best Connecticut Sports Betting Sites - 100% Trusted + Safe
| | | | | |
| --- | --- | --- | --- | --- |
| | | 50% Up To $250 | VISA + Wire Transfer | |
| | | 50% Up To $1,000 | VISA, Bitcoin, Cash Wire | |
| | | 50% New Member Bonus! | VISA, Bitcoin | |
| | | 100% Up To $300 | VISA, Bitcoin | |
| | | 50% Up To $1,000 | Bitcoin, Wire Xfer, VISA | |