Connecticut Sports Betting Update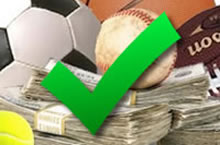 In April, regulated sports betting in Connecticut looked like it was going to be a very real possibility before the end of 2018. With the impending decision of the Supreme Court regarding the federal law PASPA (Professional and Amateur Sports Protection Act), state lawmakers introduced Senate Bill 540, which proposed legalizing sports betting should any federal restrictions be lifted.
The bill was introduced by the Finance, Revenue and Bonding Committee. While it was not signed into law this past session, which ended in May, Connecticut lawmakers are confident that a special session will be called sometime in the coming months to finalize the law. This would allow for the introduction of legal sports betting in Connecticut for the first time in state history.
Under the proposed SB 540, sports betting would be run through the Connecticut Lottery Corporation, which is partnered with the highly successful Scientific Games, an electronic gaming company. In addition to this, lawmakers and members of the Connecticut Lottery corporation have been working closely to develop guidelines for sports betting regulations. While they've worked out most of the basics – legal age to bet on sports in the state, what can and cannot be wagered on, etc. – they are having a little trouble figuring out who is going to be licensed to offer sports betting, where it will be offered (i.e. brick and mortar locations) and what the state's cut is going to be.
The uncertainty stems from a small controversy brewing in the Constitution State. In Connecticut, there are two federally recognized tribes that were given exclusive gaming rights in exchange for a 25% cut of their total slot revenue. These two tribes, the Mashantucket Pequot and the Mohegan, have been responsible for generating more than $7 billion in revenue for the state since being given those rights.
Now, when Senate Bill 540 was introduced and debated through committee, the Attorney General was asked for his opinion on the matter, which was included in the text of the bill. He stated that "if federal bans on sports betting in the United States were lifted, that tribes would not have the exclusive right to provide sports betting in Connecticut." He also stated that if the tribes wanted to open a sportsbook at their casinos, they would have to amend their current gaming compacts.
The tribes disagreed and stated that if sports betting is legalized in Connecticut without their consent, it would be in direct violation of the accords that had been reached previously. They also stated that they would cut all slot revenue going to the state if they were to be cut out of sports betting talks.
This has been the cause of the delay in passing any Connecticut sports betting legislation. It has also been the matter of some debate between lawmakers, Tribal representatives, and the Governor himself. Everyone is working together in order to make the needed amendments to the gaming compacts, but the question remains whether or not the Tribes will be given exactly what they want.
Currently, the state receives upwards of $200 million annually from slot revenue at the two tribal casinos in Connecticut, a cut that they essentially just sit back and collect with very little work. Governor Dannel Malloy especially is hoping to maintain an open and happy relationship with the tribes to keep that revenue coming in. Unfortunately, it looks like that will be taking a nosedive this fall, when MGM resorts International opens a rival casino in Springfield, MA in August of this year. Giving the tribes the option to offer sports betting at their casinos would help to bolster falling slot revenue, thus keeping the income rolling in for the state.
However, giving the Tribes exclusive rights to sports betting would mean that the off-track betting venues in the state would not be able to open their own sportsbooks. There have been three Negotiation meetings thus far, and officials in the know have stated that Connecticut lawmakers will not be called to special session until the gaming compacts and the issue of exclusivity with the Tribes have been fully amended.
The issue of which brick-and-mortar gaming venues will be able to offer sports betting becomes all the more important when you take into account the fact that Connecticut lawmakers are in no rush to offer mobile sports betting. In fact, it is not even on the agenda for the impending special session.
House Majority leader Matt Ritter, Democratic representative for Hartford, states that "A special session does not lend itself to something so complicated." He brings up issues such as age verification (in Connecticut, the legal age to bet on sports will be 21), daily betting limits, and maintaining and verifying that gambling remains within the borders of the state.
The questions surrounding mobile and online sports betting in Connecticut are being raised on both sides of the aisle. Vincent Candelora, Republican representative for North Bradford and the Deputy House Minority Leader, says "We really need to have the capacity for a full public hearing process and have it vetted." He feels that there is no rush to get online or mobile sports betting on the books, either. "Unlike other issues, there's not necessarily a deadline that is required of us to act. I think generally all the caucuses are concerned. I don't believe there is one caucus saying we should bring it up [in special session]."
For now, lawmakers in Connecticut are taking their time figuring out all of the logistics surrounding sports betting, but don't expect them to drag their feet too long. SB 540 had a proposed calendar of events that would have Connecticut residents betting on sports within a few months of a law being passed.
Getting sports betting up and running in the state is definitely a top priority, especially with nearby states like New Jersey and Delaware already getting their books up and running, and other states like New York and Massachusetts moving in on Connecticut's casino action. We may not see mobile sports betting in Connecticut very soon, but we'll definitely see in-person action being taken by books within the next year.
Best Connecticut Sports Betting Sites - 100% Trusted + Safe
| | | | | |
| --- | --- | --- | --- | --- |
| | | 50% Up To $250 | VISA + Wire Transfer | |
| | | 50% Up To $1,000 | VISA, Bitcoin, Cash Wire | |
| | | 50% New Member Bonus! | VISA, Bitcoin | |
| | | 100% Up To $300 | VISA, Bitcoin | |
| | | 50% Up To $1,000 | Bitcoin, Wire Xfer, VISA | |